Dus Ka Dum: Rani Mukherji almost MARRIES off Shah Rukh Khan's AbRam to Salman Khan future baby girl (watch video)
Dus Ka Dum: Rani Mukherji almost MARRIES off Shah Rukh Khan's AbRam to Salman Khan future baby girl (watch video)

Salman Khan, Shah Rukh Khan and Rani Mukherji are all set to entertain us with a dhamakedaar finale of Dus Ka Dum this weekend and the promos of the show have already made us pretty excited about the episode. Salman, Shah Rukh and Rani have a mini reunion of sorts on the sets and they forget for a bit that the cameras are on them as they go along pulling each other's leg! This just shows the camaraderie they share and the way they are still pretty close despite not working with each other on a frequent basis. Like good wine, their friendship has got better with time. As we are waiting at the edge of our seats for the grand finale, a new video clip has come up where Rani makes an extremely hilarious confession about Salman Khan's future baby and Shah Rukh Khan's youngest son AbRam. Whoa, even the prospect is pretty wild, right?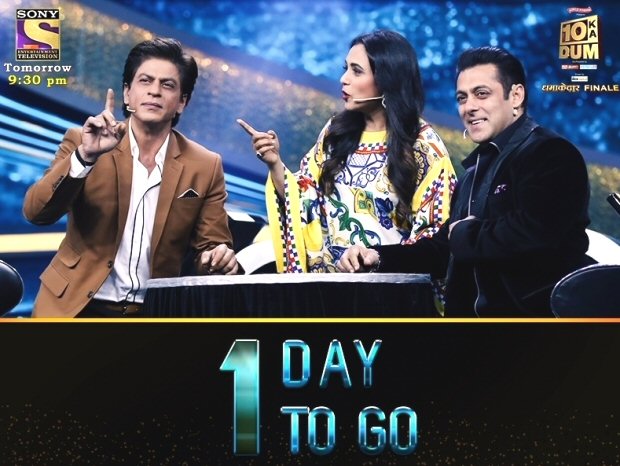 So, Rani keeps chiding Salman over his perennial single status and keeps telling him that now he should even forget marriage and straight go for a child. This also comes from the fact that Salman in fact loves babies. She further said that he would sure have a daughter and if he does, then he should get her married to Shah Rukh Khan's son AbRam who has a habit of saying I Love You to girls! We are not even surprised with this; after all he is King Of Romance's son isn't he? After this banter, Shah Rukh rechristened Rani as Shaadi Mukherji! Check out this video below.
On work front, Shah Rukh Khan's Zero will hit theatres soon while Salman Khan is working on Bharat with Katrina Kaif. Rani Mukherji's last release was Hitchki which got commercial success as well as thumps up from masses.
Also Read: Dus Ka Dum finale: Rani Mukerji and Shah Rukh Khan coax Salman Khan to forget marriage and straightway have BABIES (watch video)